ABERNETHY SCOUT GROUP
The Scouts managed to get back in October and we managed to stay outside for the duration of our term enjoying dry weather until our final night on 17th December when we had a movie night in the Pavilion as a Christmas treat.
The Scouts were excited to get back and with the Covid 19 Crisis it was great that we could offer them something to look forward to each week. We had a full outdoor programme including some of the following activities.
During November with the Scout evening falling on Bonfire night, David Stalker and Craig Haxton kindly let us use the Lickerstane field below the Powrie Park to have a bonfire at which the Scouts were taught how to build and safely light a bonfire and took turns in safely letting off fireworks as well as remaining socially distanced due to Covid of course.
On another Thursday evening the Scouts participated in the chip shop challenge in Perth. The object of this challenge is for each patrol to purchase one bag of chips from five different chip shops and then discuss, debate and agree on their findings while learning how to respect differing opinions.
The chip shops are scored (1 to 5) in the following categories: friendliness, cleanliness, presentation, taste and value, so there were some interesting discussions on their differing opinions. Everyone knows that when running a scientific experiment conditions need to be replicated as closely as possible so that a true comparison can be made, however this was thrown into complete disarray when one of the scouts had the chips doused in copious amounts of tomato sauce making the like for like basis impossible to judge and in doing so introduced a whole new topic that they weren't ready for; sauce or no sauce. However a fun time was had by all.
Later that month we had some fun cooking outside on open fires, with the Scouts enjoying chocolate bananas and oranges with mint chocolate cooked in tinfoil on hot embers of the fire, there were mixed reviews but with the majority of the Scouts unwittingly eating a warm piece of fruit while trying to devour the melted chocolate within it can't be a bad thing (anything to help towards their five a day).
A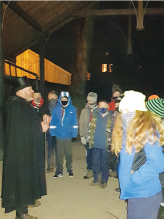 t the start of December, we were again in Perth and enjoyed Perth Horrible History tour which was hosted by Gary Knight who many moons ago was a scout in Abernethy. Gary has also written a book about the horrible history of Perth called No Fair City which has some fantastic historical stories. Gary, who was dressed in character, told stories of Perth where murder and treason had occurred and pointed out many historical remains and facts as we walked around Auld St Johns Toun.
Before we knew it we had our movie night which was the 30th anniversary of Home Alone (how old does that make you feel). Thanks goes to David Millar for letting us borrow his equipment and for his time setting up the screening of Home Alone.
At the start of January, we were met with the news we dreaded that face to face scouting was again to be suspended. Hopefully we will get the go ahead to return back to outdoor scouting sometime in March, but only time will tell.
In the meantime, I asked the scouts to consider writing about our recent Scouting experiences and how Covid 19 has affected them and Hayley Young composed a fantastic poem. I'm sure you will enjoy it as much as I did.
This year has been crazy, don't ask me why
COVID was spreading, it isn't a lie
But, by some miracle, scouts came back
The sanitizer came, the pavilion we lack.
The games we played, the fun we chase
The social distancing, firmly in place
The masks flew on, shapes of all sorts
The floodlights building, on the courts
The term was changed, and we went all over
The limits were low, in the COVID takeover
But we still had fun
And some stuff we did, COVID was none.

We did a bonfire, for that night
We got wood, and it was alight
We set off fireworks, they looked great
We got sparklers, it was like old times of late.
We chip shop challenged, around five of the best
We bought, we judged, we ate and rest
Fish and chips, that night, were on everyone's mind
The best or the worst, that we could find.
Castle Law happened, and we went up the hill
We made fires, and toasted, some food on the grill
Chocolate orange and banana, and our own teaspoon
If you looked closely, you could see the moon.
Perth's history, it's not pretty
But we got a tour, of this no fair city
The hangings, the battles, the bloody and gory
Sure made for a really good story.
Then it was Christmas, and all things sweet,
So we got ourselves, a nice good treat
A film, inside, a thing we had forgot
Home alone, popcorn, and sweets had to be got.
But then it was, too good to be true
For lockdown again, another curfew
The games, the masks, the sanitizer, the fun
It seems the year 20 is rubbing off on 21!
Hayley Young
It is also great to see one of Abernethy Cub football players again getting to a National Final and hopefully going on to win the Scottish League Cup.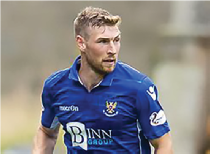 I often wonder where the time goes as it was 25 years ago that David Wotherspoon first started playing the beautiful game at Powrie Park where he was known as "Wee D" by his teammates in Abernethy Cubs. I believe he won his first trophy with Abernethy cubs winning the league in 1999 - 2000. David was a smashing player blessed with natural ability and coupled with his hard work and exemplary attitude it is no surprise to many that he has surpassed 300 appearances for the team he supported as a boy, whilst being an integral part of the most successful St Johnstone team of all time with more to come.
Finally, the Leaders and Committee will be doing everything they can to get the Scout Group back up and running as soon as it's safe to do so, which hopefully will be sometime in March but only time will tell, in the meantime stay safe.
Gordon Miller Abernethy Group Scout Leader